How I Got Started In Programmatic
Hi there,
Announcement Of The week:
We are in need of trusted partners looking to hire programmatic media talent. We have 5-8 programmatic ninjas all with different backgrounds looking for an opportunity.

All we ask is for an introduction with someone you may know or looking to hire, and we will compensate for the referral. 
Hiring managers, please contact us at [email protected] with any interest and will send resumes your way.

🔥Hot Candidate: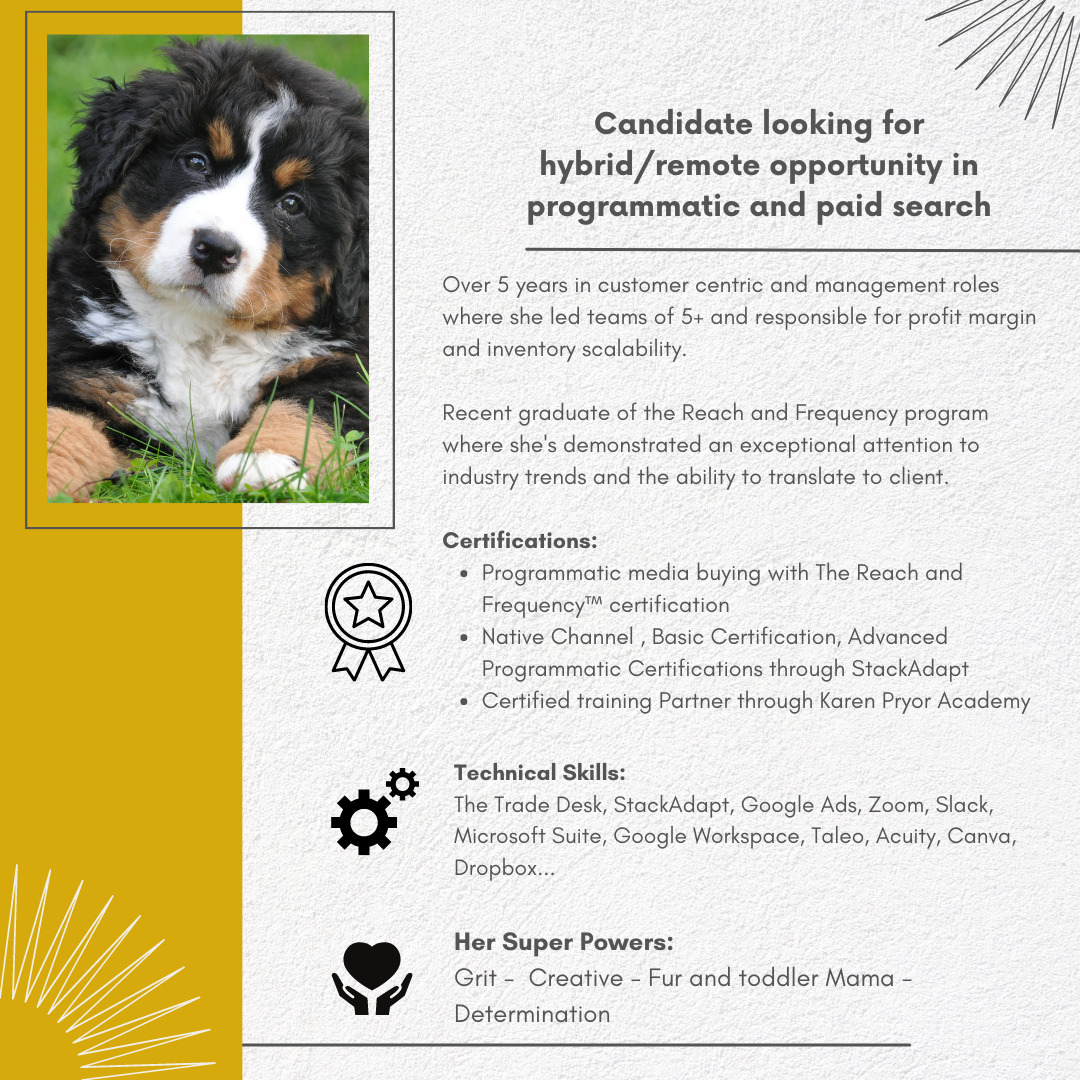 This Week's on the Programmatic Digest podcast:
Episode 115. The Current State of Programmatic Mobile with Ravit Ross at Start.IO
Tune in tomorrow on YouTube, Apple Podcast, or Spotify! 
Programmatic Ninja Story:
As we welcome 2023, I want to re-introduce myself to my new and current followers. This is not only a quick "re-intro," but I wanted to share how I started to where I am today and the goal for 2023. 
First thang first, my name is Hélène read "Ellen" because my first language is French, being originally from Dakar, Senegal 🇸🇳. Considering Senegal was colonized by France, French is still the official language amongst other local dialect. 
I always knew I wanted to be in marketing and was inspired by my badass mother, a marketing director for an airline company. Seeing her dress up in suits with red lips and statement jewelry. She would travel once or twice a quarter, and I remember her having big presentation boards, etc.  
Additionally, I always knew I wanted to run a business (or own one) growing up and watching my father build a very successful Energy and Petroleum company called: Alanau Petroleum International. #API
Fast forward to 2012 (or 2013), I was laid off from the Employment Guide, which used to be owned by Dominion Enterprises, and had whole lottaaaa bills considering I was a recent college grad. 
With determination and by leveraging LinkedIn, I was able to find a new job within 2.5 weeks. 
Here's what happened:
I applied to several jobs. One was a media buyer since I had newspaper experience and was rejected. I got that dreadful call: "You applied for the media buyer position, but you're just not qualified for it."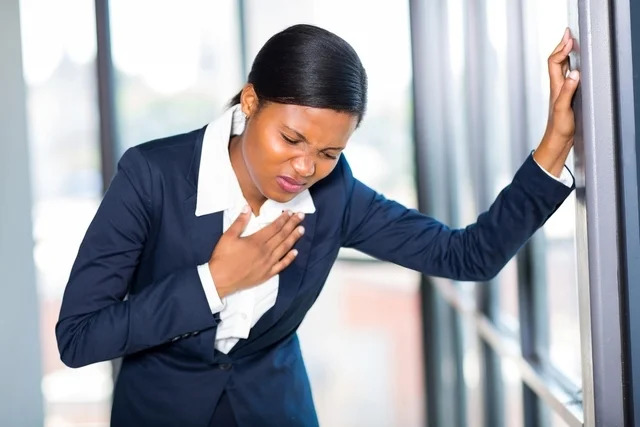 As I started thanking him, he kindly continued by saying: "however, we think you are a perfect fit for another position we are hiring for as we build this new digital media department. It's called Programmatic/RTB media trader, and you will be trained, considering it is a new department."
Since beggars can't be choosers #brokecollegegrad, 🤣🤣🤣 I said heck yes! 
I was one of their first programmatic traders and trained very closely with our Trade desk team (shoutout to Amy Mattucci, Jack Leonard, and Mike Wolk). 
Even though I had some marketing analytics experience, programmatic was a different learning journey. It was a foreign concept at that time; the technology required to execute the programmatic buy was different from what I was used to, and of course, the amount of new information!!!!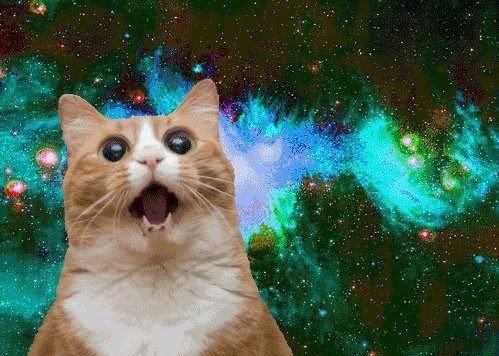 Within a year of trading on multi-6 and 7-figure ad campaigns on the Trade desk, I was promoted to lead/planner, where I led strategy and planning for new accounts. As a lead strategist/planner, I also was introduced to planning tools such as Squad, Nielsen, MRI Simmons, etc. 
Within 2.5 years, I was in line for the director of the programmatic media department after the previous VP's departure…
After being laid off from the director position, I decided that being a director was too stressful (at that time) and accepted a senior strategist position for a Raleigh startup agency (again, finding myself in a startup and as one of their first programmatic ninja). This is where we used tools such as CM 360, DV360, Simpli.fi, Quantcast, etc. 
I also worked on some pretty dope campaigns here and where I really mastered trading, considering the new DSP and the demand and expectations laid upon us. 
After being passed on on a lead/supervisor position I was already unofficially holding, I found another opportunity with higher pay and better benefits where I was the programmatic expert on the media team and helped develop their internal process. In August 2019, I started freelancing full-time thanks to WorkReduce, and We Are Rosie, and in December 2019, Helene Parker Consulting LLC was officially launched. 
I'm sharing my journey because this is where I developed most of my skills and mastered my craft. 
I was lucky enough to find an agency willing to invest time, resources, and effort in my training. As I was learning, I was also teaching the following traders joining that team. 
Working hands-on campaigns was essential, but I also dedicated most of my time to learning outside of "work." It was not an easy task because outside of the DSP learning center, it was nearly impossible to get any education in programmatic. 
Even though we have more options today, it is still a significant entry barrier! 
I learned to manage small and large budgets across multiple channels as a trader. I was responsible for managing the performance on the Trade Desk, Google Ads, and sometimes on Facebook or Twitter. My role was primarily setting up the campaigns in said techs, assessing new tactics, reporting on past performances, and developing partnerships with data and brand safety vendors. The best part of the role was when I had some uninterrupted time to optimize my campaigns. Optimizing my campaigns meant pulling a report for each tactic or adgroups and analyzing performance based on my main KPIs. The fun part was pulling a persona or a consumer behavior based on how well we measured. 
Here are some fun data-driven facts I remember pulling after optimizing different campaigns:
(please remember that each was specific to that industry at that moment or year)
Not all overnight hours are "bad, as we realized that most college applications happened late at night for this national university. 

Christmas show enthusiasts were most likely to purchase a second pair of show tickets when targeted with a specific message for this theater brand; more precisely, the message included "bring a friend and earn 15% of their tickets when purchased for show x." 

The cart abandoner tactic works exceptionally well for other industries outside of eCommerce. We tested retargeting a specific audience that visited a unique page but did not convert. We saw a higher conversion rate when serving a particular message such as "did you forget?" or "finish your application Now." The magic happened when we layered a strategic frequency and excluded anyone without a conversion after a certain number of days. 

Creatives are more critical than the amount of budget spent per tactic #unpopularopinion ⇒ I'll probably be getting hate mail for this. Still, if your creatives are shitty, it almost doesn't matter where or how much you're spending! 

Small business owners are more likely to research important business things overnight or early in the morning when they are not servicing their clients. Still, their first touch or interaction with a brand happened during the day across different channels, including Audio, OTT, or emails. 
Spending time in your campaigns and analyzing performance data is essential and non-negotiable as a trader. 
I am focusing solely on education and DEI. Our mission at Helene Parker Consulting is to teach historically excluded people how to get started in programmatic media and find a career. We do so by providing on-demand education, a dope community, and support with job placement. 
That is why we founded The Reach and Frequency™ program, which focuses on training programmatic traders and planners with the tools they need to succeed. This program also includes hands-on experience in DSPs and weekly group coaching. 
If you are thinking of becoming a trader or just getting started, I am here for you and have created a safe space for you to ask questions and bounce ideas off of other like-minded folks, and we have a free slack channel called programmatic meetup, in addition to an optional weekly call.
Latest Slack Conversation:
Testing in Banners in YouTube vs. on the Open Exchange in a DSP 

Celebrated a community win by congratulating one of the recent Reach and Frequency certified

students for finding a job.

You can join in

here

Cheers to leveling up!

Hélène
Your Programmatic Coach
___________________________________________________________________________________________________________
Our mission is to teach historically excluded people how to get started in programmatic media and find a career. We do so by providing on-demand education, a dope community, and support with job placement. 
That is why we founded  The Reach and Frequency™ program where we focus on training programmatic traders and planners with the tools they need to succeed. This program also include hands-on experience in DSPs and weekly group coaching. 
Our focus in Q1 is to find partners and hiring managers to help placed this talent pool after completing the program. 
If you are a candidate or a hiring manager, feel free to give me a call 757-613-9984 or email me at [email protected]
We are always looking for a referral or simply happy to chat the latest and greatest so don't hesitate to book a call 😬
___________________________________________________________________________________________________________